Quality
QUALITY ASSURANCE BS EN ISO 9001 ACCREDITED QUALITY MANAGEMENT SYSTEM
At John Hood and Co. [Copper Alloys] Ltd we operate a bespoke stock management system which is linked to our nationwide network of strategically located sales units and warehouses. The Company is accredited to BS EN ISO9001 as a supplier of assessed capability.
At the core of this system is a commitment to the highest possible standards. This is reflected in the quality of products we supply and in our ongoing efforts to meet the exacting levels of service that our customers expect.
As well as providing the targets that we work towards on a daily basis, our Quality Management System gives us the ability to accurately measure our performance in relation to key objectives. Through regular analysis and reviews this data enables us to constantly strive for further improvement in all areas of our operation.
John Hood values its people as the most vital driving force in achieving and maintaining excellence. Our staff and management teams have extensive industry experience, knowledge and expertise, with each individual highly qualified in their field.
With an unparalleled range of stock at our disposal, we are able to aim for complete customer satisfaction each and every time.
John Hood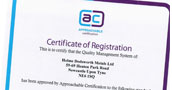 Downloads