Copper Connectors
Flexible Copper Connectors

Our high quality copper connectors are available in round cable form with cross sectional areas of between 0.5mm2 to 1000mm2. They can be supplied with end terminations of your choosing and the finish can be either natural or tinned.
Braided Connectors
Designed to create flexible electrical connections between large components, braided connectors are produced by weaving multiple copper wire strands together. This provides a superior alternative to heavy cable, being highly resistant to breakage even when subjected to constant vibration or motion.
Our flat-stranded copper braided connectors all have ferruled ends and are produced to a high specification with cross sectional sizes ranging from 4mm2 to 1500mm2 and up to 3000 amps. They are available at any length you require. In addition, we carry an extensive range of special connectors.
Further options available upon request:
Integral lug available
Copper tube Termination
Can be supplied with loose or consolidated ends
Multiple crimping
Wide choice of sleeving available
---
Copper Laminated Connectors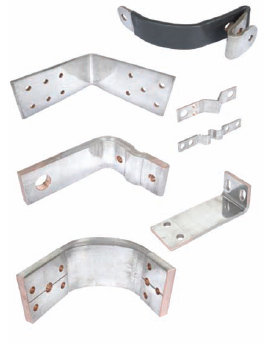 In certain environments where busbars are normally used, limited space, positioning, or expansion due to heat can all cause critical issues. In these situations copper laminated connectors offer a flexible solution.
The connectors are manufactured by layering electrolytic copper foil. When the copper foil is placed under pressure and a high current is passed through, the copper melts to form a bonded material. The resulting connector has a very low voltage drop, allowing much greater currents to be carried with a comparatively minimal rise in temperature.
John Hood & Co. can provide copper laminated connectors which satisfy your requirements in terms of exact shape, size and length - meeting the demands of your specific application. Our knowledgeable sales team are on hand to offer expert advice on the most suitable option for your project.
Options available:
Complex shapes
Tinned or natural finish
Multiple laminations
Consolidated soldered ends
Flat or bridged connectors
Sleeved option available
For further information or to arrange a design consultation just use the enquiry form or contact us on 0141 952 4721.